Happy people
We produce Parquetvinyl under the best possible circumstances, with the focus on a healthy working environment and the welfare of our operators.
A green planet
Parquetvinyl contains up to 70% limestone. In the remaining 30%, only high-quality plastics are used. As a result, our products last for decades. That way, we use fewer raw materials.

We believe in the big impact that small actions can have. So we use no plastic foil around the cardboard packaging. Parquetvinyl is perfectly resistant to moisture.

We also deliberately only use cardboard with an FSC label.
Innovative products
Innovation ensures that our products are increasingly stronger, better and greener.

We don't use glue in the production of our floorboards. The layers are compressed at a temperature of 200°C. No glue is required either when the floorboards are being laid in your home.

Parquetvinyl contains no harmful plasticisers such as phthalates.
Our green labels
We are proud of our green labels. They are proof that our floors help create healthy indoor air. Our range is 100% safe and healthy for humans, animals and nature. For example, our volatile organic compound (VOC) emissions are 100 times lower than the European threshold.
A+ label: the ultimate guarantee for the optimal quality of the inside air.
REACH-conform: we comply with all European directives on dangerous chemical substances.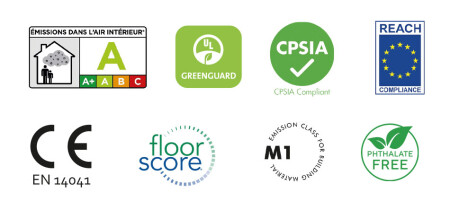 Lifetime warranty
When you choose Parquetvinyl, you get a lifetime warranty. This is because we are 100% convinced of the sustainability of our range.
Would you like to read our warranty conditions? You can find them here.